141785612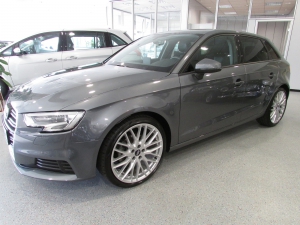 First registration
5/2018
Vehicle category
station wagon
Vehicle type
used vehicle
Transmission
7-speed automatic gearbox
More information
trim
Leather/alcantara upholstery interior trim black
Consumption
MPG combined*
5.1 l/100 km
Environment badge
Green EPA Sticker
Equipment
19 in. aluminum rims
ABS anti-blocking system
air conditioning
autom. tire pressure control
back seat divided
Bi-Xenon
Bluetooth hands-free kit
Central arm rest
Colour monitor for navigation system
Condition: Very Clean
Country version Germany
Darkened rear windows
Daytime Running Light
Electric wing mirror
electronic immobilizer
ESP
exterior rear view mirrors heated
first hand
Front seats height adjustable
Fully digital combined instrument
Hands-free module
infrared closing system
Leather steering wheel
Manufacturer?s warranty
metallic
more features included
multi-functional steering wheel
Navigation with a colour monitor
on-board computer/travel computer
outside temperature indicator
phone pre-wiring
power steering
power windows (front+rear)
radio-cd
Rear head restraints
Sensor Lights
sound package
sports chassis
sports seats
Start-stop automatic
steering column man./el. adjustable
tinted glass
Touchscreen
Traction control
trunk cover
USB connection
Note
Vielen Dank für Ihr Interesse an den von uns angebotenen Fahrezugen.
Es handelt sich hier um einen Audi A 3 Sportback COD (Cylinder on demand) 1.5 TFSi mit Automaticgetriebe - aus Ersbesitz - mit Herstellergarantie bis 05/2020
Lackierung: Monsungraumetallic
Polsterung: Alcantara/Leder schwarz
Audi Virtual Cockpit mit 12, 3 ´´ Farbdisplay (volldigitales Kombiinstrument)
Lederlenkrad im 3-Speichen-Design mit Multifunktion PLUS
Lenkrad einstellbar
7G S-tronic Automaticgetriebe
Bi-Xenon-Scheinwerfer
MMI Navigationssystem PLUS mit Touchscreen
Ablage-/Gepäckraumpaket
USB - Anschluß
Klimaanlage
Technology-Selection Paket
Audi Smartphone Interface
Audi Sound-System
19´´ Leichtmetallräder 10Speichen Sport Design
Alcantara/Leder Sitzbezüge
Mittelarmlehne vorne
Sportsitze vorne
Sportfahrwerk
Schwarzglas im Fond
Eingabefehler und Irrtum vorbehalten. Gerne bieten wir Ihnen eine interessante Fiananzierungs- oder Leasingmöglichkeit (auch ohne Anzahlung) an. Gebrauchtwagenanschlußgarantie bis 05/2023 möglich.
Do you have any questions ?
Your autoFORUM HÖSBACH Richard Reb-Lothar Roscher-Reinhard Reb GbR-team
Richard Reb
06021 - 57 05 78
* More information about the official fuel consumption and official specific CO2 emissions of new cars can be found in the guide on fuel consumption and CO2 emissions of new cars", which is available free of charge at all sales outlets and at the "Deutsche Automobil Treuhand GmbH" at www.dat.de
Data protection notice
To process your request through webmobil24.com and service providers commissioned by webmobil24.com, your above-mentioned personal data is collected processed, transmitted or used, and - if required for executing or processing the inquiry - transmitted to companies associated with webmobil24.com, to service providers or a partner of webmobil24.com to be processed or used. If data is transferred to countries outside the EEA to the above-mentioned parties and processed there (e.g. for technical storage and processing by the authorised data processing service provider in the US), this is of course done in full compliance with applicable regulations for the protection of personal data. By submitting this form you agree that you may be contacted by e-mail for the above-mentioned purposes. If you do not want your data to be used for the above-mentioned purposes, please contact the above-mentioned supplier.
Sell ââgood pictures vehicles: 36 XXL photos, + slideshow and video on every vehicle possible.

The most important vehicle information at a glance.

Contact person can be used individually or generated from the data of the e-mail response system.

Quality management - Envkv or quality seal are uploaded automatically

Contact person can be used individually or generated from the data of the e-mail response system.

For lovers of detail: adjustment of all features possible.

The way to your dealership: That's how the customer always finds you!