138756941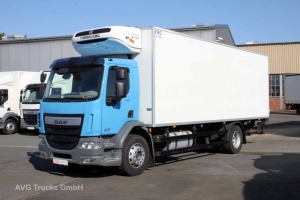 First registration
6/2014
Vehicle category
Cooling van body
Vehicle type
used vehicle
Transmission
manual transmission, 6-speed
Loading capacity

9.410 kg
Freight hold measures (L/B/H)

7450 / 2470 / 2300
Consumption
Environment badge
Green EPA Sticker
Equipment
4x2
ABS anti-blocking system
automatic climate control
automatic limited slip differential
cargo board side hydraulic
cruise control
Disc brake
Engine brake
full pneumatic shock asorption
heating of seats
Partition panel
power steering
power windows
reverse motion alarm system
SCR (Selective Catalytic Reduction)
Short-distance traffic
Note
Ladebordwand Dhollandia 1.500 kg, 1.800 mm.
Kühl-Aggregat Thermo-King T-800 R, 3-Zylinder-Diesel + 380 V, Kälteschreiber, ATP/FRC gültig bis 05/2020.
---
Tiefkühlkoffer Kiesling mit 3-teiliger Trennwand Typ Cool Slide (quer- und längsverschiebbar).
---
Trennwand verschiebbar im Laderaum
Getriebe 6-Gang
Koffer ohne Hecktüren, Ladebordwand schließt ab
Differentialsperre Hinterachse
Hinterachse luftgefedert
Antiblockiersystem (ABS)
Scheibenbremse
Multifunktionslenkrad
Fahrerhaus S (kurz)
Sonnenblende außen transparent
Rückblickspiegel heizbar
Fensterheber elektrisch für Fahrer- und Beifahrertür
Spiegel elektrisch verstellbar, Fahrer- und Beifahrerseite
Klimaanlage
Heizung für Fahrersitz
Rückfahrwarner
Rückfahrkamera mit Monitor im Fahrerhaus
Tank 340 Liter
AdBlue-Tank 25 Liter
Motorbremse
Motorausführung Euro 6
Tempomat
Aluminium-Laderaumboden
Ladungssicherungsschienen
Ohne Ersatzrad
---
Verkauf nur an Gewerbetreibende ! Ohne Gewähr für die Angaben ! Zwischenverkauf vorbehalten ! Es gelten ausschließlich unsere Allgemeinen Geschäftsbedingungen !l Gerne unterbreiten wir Ihnen ein Leasing- oder Finanzierungsangebot.
, Multifunktionslenkrad
Partner (name, surname)
Edwin Sundermann
Verkaufsberater
069-942138-17

* More information about the official fuel consumption and official specific CO2 emissions of new cars can be found in the guide on fuel consumption and CO2 emissions of new cars", which is available free of charge at all sales outlets and at the "Deutsche Automobil Treuhand GmbH" at www.dat.de
Data protection notice
To process your request through webmobil24.com and service providers commissioned by webmobil24.com, your above-mentioned personal data is collected processed, transmitted or used, and - if required for executing or processing the inquiry - transmitted to companies associated with webmobil24.com, to service providers or a partner of webmobil24.com to be processed or used. If data is transferred to countries outside the EEA to the above-mentioned parties and processed there (e.g. for technical storage and processing by the authorised data processing service provider in the US), this is of course done in full compliance with applicable regulations for the protection of personal data. By submitting this form you agree that you may be contacted by e-mail for the above-mentioned purposes. If you do not want your data to be used for the above-mentioned purposes, please contact the above-mentioned supplier.
Sell ââgood pictures vehicles: 36 XXL photos, + slideshow and video on every vehicle possible.

The most important vehicle information at a glance.

Contact person can be used individually or generated from the data of the e-mail response system.

Quality management - Envkv or quality seal are uploaded automatically

Contact person can be used individually or generated from the data of the e-mail response system.

For lovers of detail: adjustment of all features possible.

The way to your dealership: That's how the customer always finds you!