106533231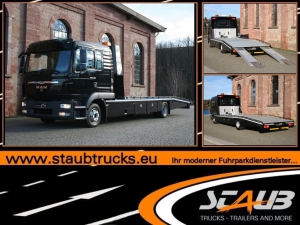 Internal number
TGLTrapo8.
Vehicle category
Car Hauler
Vehicle type
Vehicle To Order
Transmission
Manual Transmission
Loading capacity

4.935 kg
More information
Outside dimensions (L/B/H in mm)
9400/ 2370/ 3300
Dimensions (L/W/H)

7000 / 2350 / 0
Consumption
Environment badge
Green EPA Sticker
Equipment
4x2
ABS anti-blocking system
Air Ride Seat
Automatic Climate Control
Auxiliary Heater
Available for Rent
Brush Guard
Cruise Control
Disc Brake
Dually Wheels
Engine Brake (Jack Brake)
Fog Lights
Glare Guard
Heated Exterior Rear View Mirrors
Heated Seats
Highway Use
Hitch
Large Driver Cabin
Leaf Spring Air Ride Suspension
On Board Travel Computer
Outside Temperature Gauge
power locks
Power Passenger Side Mirror
power side mirrors
Power Steering
Power Windows (front)
Radio/CD
Roof Ventilation
Sleeping Berth
Tachograph
Tinted Glass
Note
Motorwagen 7, 5to (od. 8, 8t dann 3800kg Nutzlast )
optional mit Anhänger 3, 5to Gesamtgewicht Nutzlast 2800kg
Gesamtnutzlast mit Anhänger 6600kg oder Mautfrei zugelassen = 6250kg Nutzlast
überladeeinrichtung - Beladung über den Motorwagen
stabiler ALU Aufbau
formschöner Fahrerhaushoher Frontbügel
Rückwertige Beleuchtung/Arbeitsleuchten im Flyer integriert
formschöne ALU Vollverkleidung in Wagenfarbe lackiert
integrierte Staukisten im Aufbau
el.4 to Winde Superwinch mit Fernbedienung
Warnlichtbalken mit bel. Werbefeld
Arbeitsscheinwerfer zur Laderaumausleuchtung
vollwertige Ausstattung
3, 5to Anhängerkupplung
fordern Sie ihr detaliertes Angebot für das Fahrzeug an
Für weitere Informationen zu dem angebotenen Fahrzeug, fordern sie ein detailliertes Angebot an. Fragen Sie nach unseren günstigen , Mietkauf, Leasing oder auch Full-Servicemietangeboten. Es gelten unsere allgemeinen Geschäftsbedingungen . Zwischenverkauf vorbehalten. Finanzdienstleistungsangebote gelten vorbehaltlich positiver Bonitaetspruefung und nur fuer DEUTSCHE Gewerbebetriebe. Infos auch unter www.truck-rent.info
* More information about the official fuel consumption and official specific CO2 emissions of new cars can be found in the guide on fuel consumption and CO2 emissions of new cars", which is available free of charge at all sales outlets and at the "Deutsche Automobil Treuhand GmbH" at www.dat.de
Data protection notice
To process your request through webmobil24.com and service providers commissioned by webmobil24.com, your above-mentioned personal data is collected processed, transmitted or used, and - if required for executing or processing the inquiry - transmitted to companies associated with webmobil24.com, to service providers or a partner of webmobil24.com to be processed or used. If data is transferred to countries outside the EEA to the above-mentioned parties and processed there (e.g. for technical storage and processing by the authorised data processing service provider in the US), this is of course done in full compliance with applicable regulations for the protection of personal data. By submitting this form you agree that you may be contacted by e-mail for the above-mentioned purposes. If you do not want your data to be used for the above-mentioned purposes, please contact the above-mentioned supplier.
Sell ââgood pictures vehicles: 36 XXL photos, + slideshow and video on every vehicle possible.

The most important vehicle information at a glance.

Contact person can be used individually or generated from the data of the e-mail response system.

Quality management - Envkv or quality seal are uploaded automatically

Contact person can be used individually or generated from the data of the e-mail response system.

For lovers of detail: adjustment of all features possible.

The way to your dealership: That's how the customer always finds you!